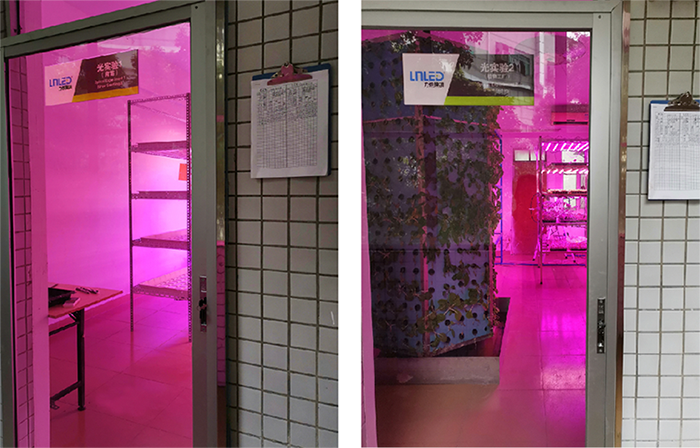 Spring thunder faint early awakening of insects, a year's plan in spring.
On March 4, bearing the trust and trust of guangdong photoelectric association and leaders, guangzhou linong was elected as the chairman of the first guangdong agricultural lighting committee. At the founding meeting, the company lei always issued a passionate heroic words: we will not fulfill our mission, brave tide, fight to be the vanguard, LED lighting towards a better tomorrow of agriculture.
Deliver what you say. In the next more than a month, under the care and support of the association and leaders, the company carefully organizes relevant departments and professionals to plan, design, construct and install. Today, a new plant light environment testing center with a clear purpose, a clear function and a professional agronomist is finally completed. This is a big happy event of guangdong province agriculture illume professional committee, everybody is happy!
The test center covers an area of about 300 square meters and consists of two parts: the laboratory and the experimental planting area. Among them, the light parameters test planting distinguish seedling light laboratory, plant factory light laboratory, plant planting light laboratory. The laboratory is equipped with the independent intellectual property rights of the water cooling circulation system (water cooled LED lamp), a LED lamp, b LED lamp, RGBW light bar, tube, etc. Seedlings are raised in a tidal manner. Plant cultivation has three cultivation methods, such as hydroponics, fog culture and substrate culture.
The purpose of using the test center is firstly to analyze and study the demand spectrum of plants, and finally to obtain the optimal light environment of different plants in different growth cycles. The second is to carry out practical application test on the plant lighting, to demonstrate whether the lighting itself is suitable for the actual planting environment, and whether various parameters will change in the actual application; Third, light analysis experiments were carried out on different planting methods to see whether the requirements of different planting methods for light environment were different. Fourth, it is convenient for customers to further understand the plant lighting products and specific applications, to establish customer confidence in the company's products; Fifth, it can be used as a popular science education base for teenagers to enlighten them to the impact of the application of modern LED technology on the demand of plant growth environment.
In addition, the construction and use of the test center also reflects the practical and diligent craftsman style of the special commission for agricultural lighting of guangdong province. In addition to the celebration, we also sincerely wish LED lighting technology can lead agriculture to a safer, green, organic, smart new era! We also sincerely invite friends from home and abroad to visit and guide linong to join us!
上一页